A few words about
Milos Island
extraordinary colours and landscape
Milos is the most exotic island in Greece because of its extraordinary colors and landscape and it is, without doubt, one of the most impressive in the Cyclades.
The highlights of Milos are endless, Sarakiniko and Kleftiko, with their white rock formations, emerald green waters and caves eroded by the sea, are steeped in stories of pirates.
Here are some beautiful beaches in milos island
Sarakiniko – Rocky, moon-like surface, probably the most visited of the Milos beaches.
Papafragas – Thin waters, unusual landscape.
Firopotamos – Occasionally wavy, small sandy beach and rocky surface with some houses in water (Syrmata).
Papakinou – In Adamas (main port), clear, shallow waters.
Lagada – Also in Adamas. Cold, clear waters. Beach is good for resting.
Hivadolimni – Turquoise, shallow waters, many aquatic activities are offered there.
Paleochori – Party beach surrounded by colorful volcanic rocks. There are some restaurants and beach bars.
Tsigrado – Sandy beach with caves and shallow colorful waters.
Kleftiko – Snorkellers destination, colorful crystal clear waters. You can go there with daily trip sailing boats.
Sykia Cave – In a cave with volcanic atmosphere. You can go there with daily trip sailing boats.
Provatas – Beach with waters similar to Hivadolimni.
Agia Kyriaki – Organized beach with clear waters. Offers water sports and beach bars.
Psaravolada – Has many similarities with Ayia Kyriaki, especially since they are right next to each other.
Pollonia – Located in the town of Pollonia, similar to Lagada and Papakinou beaches.
Mitakas – Crystal clear waters.
Gerakas – Small but shallow beach near Ayia Kyriaki accessible only by boat.
Amongst all the incredible islands of Greece, Milos is unique.
Visit the early the ancient theater of Milos and the Christian catacombs, an array of beaches and the multicolored settlements of Klima, Emborios and Mandrakia, with their quaint buildings cut into the cliffs and Tripiti's sunsets.
And let's not forget that this is where the Venus de Milo (the exquisite life-sized marble statue believed to be the goddess Aphrodite, now housed in the Louvre) was discovered. All of these cry out in unison: Amongst all the incredible islands of Greece, Milos is unique.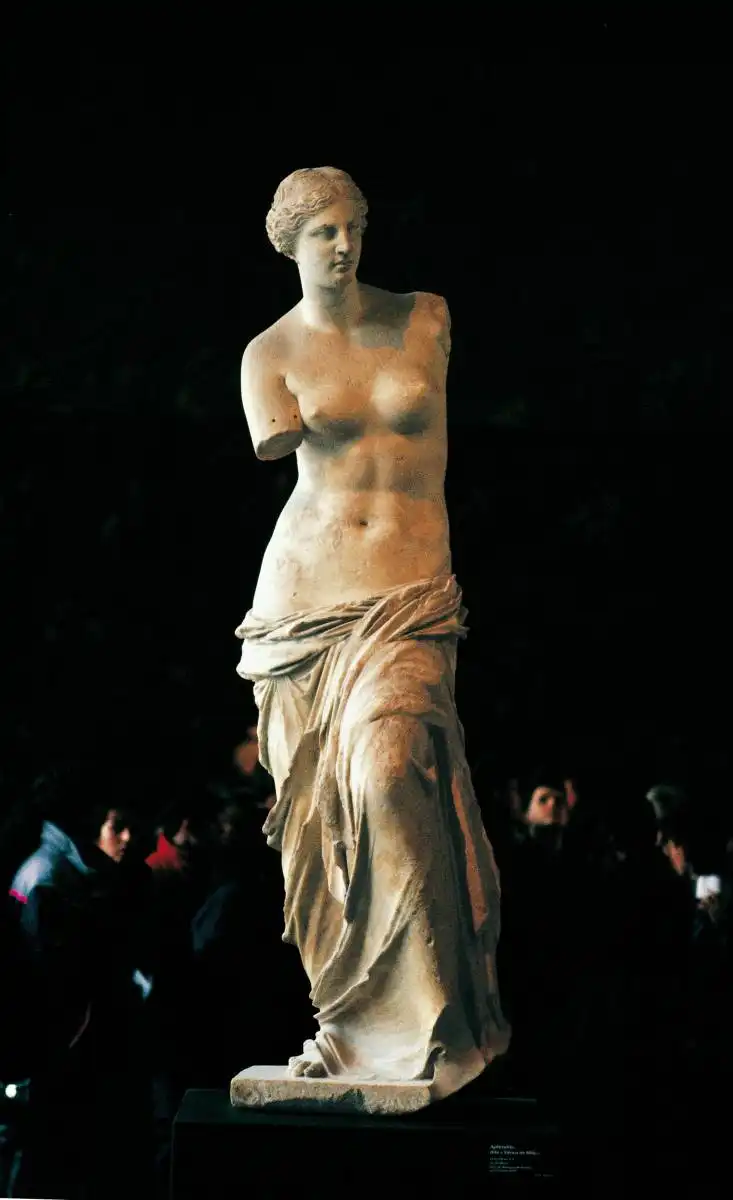 The Greek goddess of love and beauty
The famous statue of Venus of Milos, or else Aphrodite of Milos is one of the most famous ancient Greek statues was discovered on the Greek island of Milos at the beginning of the 19th century.
The statue is called Aphrodite of Milos, or else Venus of Milos. Aphrodite was the Greek goddess of love and beauty. The statue depicts a woman with a young, energetic body, smooth contours, and a twisting torso.
She is having a long drapery wrapped around her waist, which is styled in a way that can create a play of light and shadow. Her face and her expression are supposed to show her god-like beauty.
Adamas is the main port of Milos and also a seaside village of white houses shimmering on the blue waters of the Aegean. This village was founded in 1835 by refugees from Sfakia who came from Crete after the failure of their rebellion against the Turks.
Adamas became increasingly important historically because of its large and safe, naturally made harbor, and its strategic position in the eastern Mediterranean.
Adamas is surrounded by many beautiful beaches and offers various tourist facilities such as banks, post-office, doctors, tourist agencies, port police, hotel units and an intense nightlife. Many old churches, as well as mining and ecclesiastical museums, are worth visiting.